BRIEF ABSENCES (not exceeding 3 days)
TNC2014/18 - This Circular updates the arrangements that took effect from 1 August 1990 in relation to teachers being absent for 3 or less working days. This includes the recommended action for brief absences including death of near relatives, house removal, attending graduations, weddings etc.
https://www.education-ni.gov.uk/sites/default/files/publications/de/2014-18-teachers-absences-not-exceeding-three-working-days.pdf
---



TEACHER ATTENDANCE PROCEDURE - TNC 2008/2
All sick absences must be certified.
1 – 7 days sick leave: Self certificate (CCU67/SC1) is required.

8 days onwards: Medical certificate (from doctor) is required.
Sick leave/pay
A teacher's entitlement to sick leave/pay depends on the number of years' service they have completed and the number of days they have been absent owing to illness in the current year, which ends on the 31 March.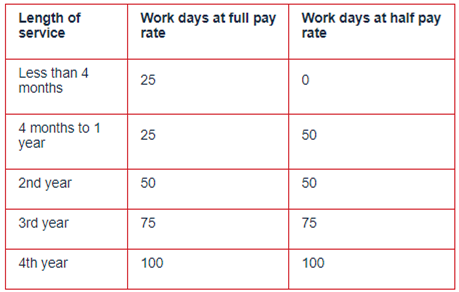 https://www.education-ni.gov.uk/sites/default/files/publications/de/tnc-2008-2-teacher-attendance-procedure.pdf
---

THRESHOLD ARRANGEMENTS
To find out more about the Threshold Arrangements for 2018/2019, follow this link to the DENI website: https://www.education-ni.gov.uk/articles/overview-teachers-terms-and-conditions
---

UPPER PAY SCALE PROGRESSION
Information and guidance outlining the Upper Pay Scale progression arrangements from September 2015 can be found by following this link to the DENI website: https://www.education-ni.gov.uk/publications/upper-pay-scale-ups-progression
---

MATERNITY/PATERNITY/ADOPTION LEAVE
Follow these links to the Department of Education website and the latest circular for Maternity, Paternity, Adoption and Shared Parental Leave schemes
---

FLEXIBLE WORKING
TNC 2009/6 - This Scheme sets out the criteria and procedure to request flexible working arrangements. https://www.education-ni.gov.uk/publications/tnc-2009-6-flexible-working-scheme
---

JOB SHARE SCHEME
TNC 2009/4 - This document defines the policy which applies to job sharing arrangements for teachers, including principals and vice principals in schools: https://www.education-ni.gov.uk/publications/tnc-2009-4-job-share-scheme-teachers
---

TEMPORARY VARIATION IN CONTRACT
TNC 2009/7 - This document explains the procedure for a temporary variation of contract and includes an application form. https://www.education-ni.gov.uk/publications/tnc-2009-7-temporary-variation-contract